Our basic gameplay is pretty fun, but it can get one-dimensional fairly quickly. So we brainstormed and tried to come up with some ways to make the game varied and interesting. One simple way to do that is with collectible items that temporarily change gameplay: power-ups! Or as I like to call them, flower-ups 🙂
An early idea was to cultivate power-ups in much the same way as the basic flowers – collect special seeds, then wait for the power-up to bloom. But that was needlessly complicated, so we opted to have special flower boxes scattered throughout some of the levels, where power-ups grew on their own. Some grow only specific power-ups, and some will grow one at random.
Please note that these features are still alpha versions, and are subject to change.
Triple-shot and Multi-shot
In a game that involved firing shots at one another, what's the easiest and coolest thing to do? Shoot more than one at a time! We created two different kinds: the classic three-seed wide shot, and the 8-seed omnidirectional shot.
But there's more to our game than just shooting, so our power-ups do more as well. In this case, our multi-shot flowers also let you plant more than one seed at once. A quick way to get all the flowers you need at once, but it leaves plenty for your opponent to collect too.
Dandelion
Having an open level is pretty boring, so some of our levels have barriers that you need to get around. The dandelion power-up gives you an instant shortcut – just fly right over in a direct path!
Mushroom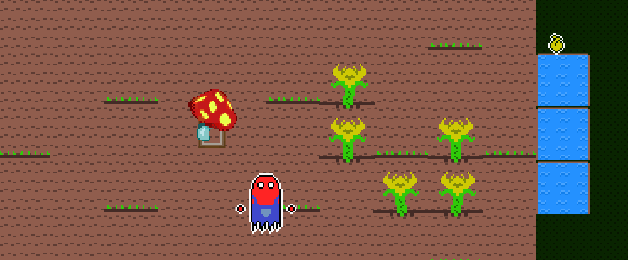 Everyone knows when you eat a mushroom, you immediately grow to twice your size. What can you do when you're that big? First of all, you can trample and destroy grown flowers, putting you and your opponent back on a level playing field. You can also throw GIANT SEEDS that throw back your opponent further, while you resist getting thrown back yourself.
Others
Sometimes you want a reprieve from constantly getting pelted by seeds from your opponent.  The flaming hot "ghost" pepper will grant you that protection.
The last power-up is the rose. The original idea was to create a temporary clone of yourself, but that proved to be too complicated and confusing for everyone involved. It's undergoing some revisions.